Railway hole caused by 'water build-up'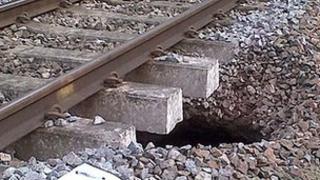 A hole which appeared by a Herefordshire railway line, causing services to be cancelled, was caused by a build-up of water, Network Rail said.
Trains are now operating normally along the line at Colwall, between Hereford and Great Malvern, after temporary repairs were made on Monday.
Network Rail said engineers were at the scene to look into where the surplus water had come from.
A theory the hole was caused by badgers was speculation, the spokesman said.