Worcester Hive: £60m library and history centre opens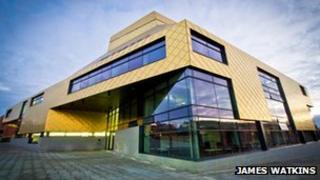 Worcester's new £60m library and history centre, The Hive, has opened to the public.
The building houses 250,000 books, more than 26,000 records of historic buildings and monuments and also has a children's library.
It stands on the banks of the River Severn and uses energy generated by the river to help cool the building down.
The Queen is due to officially open the building, which is made of 16,000 gold-coloured tiles, on 11 July.
The project has been funded by £40.9m of Private Financial Initiative (PFI), £6.6m from the county council, £10m from the university, £7m from Advantage West Midlands and £300,000 from Worcester City Council.
Business Development Manager, Laura Worsfold said: "We don't want people to view it purely as a library.
"We do want people to get access to the things they need like books and computers, but we want them to discover new things so we're offering arts, lectures and community events."