Hereford Cathedral displays copy of 1217 Magna Carta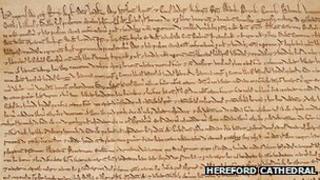 A copy of the Magna Carta, one of the most famous documents in English history, will go on display in Hereford Cathedral.
Its copy of the charter dates to a 1217 revised version, issued by Henry III.
There are four 1217 revised copies of the Magna Carta still in existence, one held at the cathedral and the others at the Bodleian Library in Oxford.
The document will be displayed throughout July and August.
'Great charter'
A cathedral spokesperson said that "with the Olympics coming, our exhibition is about travel and pilgrimage and [the Magna Carta] fits in nicely with that".
Glyn Morgan, chief executive of Hereford Cathedral Perpetual Trust, said the charter was a part of local heritage, having been at the cathedral since 1217, as well as being a "very important national and international document".
Magna Carta was a peace treaty between King John and the barons who were in revolt against him and set out the principles of freedom under the law.
There are four copies of the original 1215 Magna Carta still in existence at Salisbury Cathedral, Lincoln Castle and The British Library, London.
The 1217 copy of the document will be exhibited in the Mappa Mundi building at Hereford Cathedral.