Band of flood volunteers protect Bodenham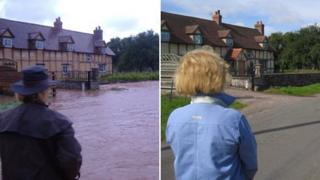 Five years after a Herefordshire village was hit by severe floods, residents are prepared to jump into drains to clear blockages themselves.
Forty homes in Bodenham were damaged by floodwater on 20 July 2007, when torrential downpours hit large parts of the country.
It spurred villagers to take action themselves, inspiring them to create the Bodenham Flood Protection Group.
Out of the 30 volunteers - mostly retired people - 12 or 15 meet fortnightly to clear village drains and organise fundraising events.
Group chairman Tony Mitchenson said those who were able "climb into the culverts on hands and knees to dig things out", while others fundraised.
Money is continuing to be raised through events such as barbecues, bonfire parties and year-round cake sales. It pays for equipment such as sandbags and shovels.
He said the 2007 flooding in the area was caused by a mixture of problems including the drainage system, weather conditions and landscape.
"The problem was not the River Ludd, it was flash flooding from surrounding hills and farms," he said.
The debris recovered from village drains after the 2007 floods included 11 tonnes of silt, a 30mph road sign, complete with its pole, and a 3ft water tank.
One of the first changes the villagers supported was the construction of a relief channel, built by River Lugg Internal Drainage Board, following a meeting with the volunteers and the Environment Agency.
The channel gave excess water a clearer pathway away from houses.
"If we didn't have [the relief channel] we as a village might well have been flooded again on four or five occasions." Mr Mitchenson said.
The volunteers sought funding and received £161,500 in grants from the Environment Agency for flood protection to 38 properties.
The chairman added if it had not been for the flood and the community coming together after it he might not have known his neighbours as well as he does.
'Invaluable experience'
The group provides advice to house owners and support for those who have been flooded.
It has also inspired neighbouring villages, Brimfield and Little Hereford, to set up their own team of volunteers.
"Their experience was invaluable," said Peter Clements, chairman of the Brimfield and Little Hereford Flood Protection Group.
After setting up, the new group had a local brook widened and "may have prevented flooding in the past couple of weeks", Mr Clements said.
"You've got to work on it and with agencies that exist to pull together, we've had a lot of support."
Mary Dhonau became involved in flood protection work after her Worcester home was flooded with raw sewage "on many occasions".
Ms Dhonau, who has helped community groups and received an OBE for her work, said flooding can be devastating.
"Your mind is whirling round and your heart's beating fast. It's very surreal," she said.
"I think the worst bit is that you do become irrational so every time it rains you get tense.
It tends to take over you life.
"Some people think 'I don't live near the river or sea I won't flood' but that's not the case," she said.
The Environment Agency said: "We encourage self-help measures like those of the Bodenham Flood Protection Group to prepare for and reduce the risk of flooding.
"We would like groups to work with us, local authorities and parish councils to limit the impact of flooding.
"Floodwater is dangerous and people should not put themselves at risk."
The agency added that any communities interested in carrying out such measures should contact it for advice.