St John's Middle School closed after copper thefts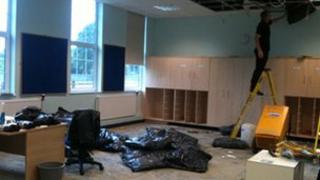 A Worcestershire school has been closed until the end of term after a metal theft caused flood damage put at £50,000.
Copper tanks and pipes were stolen overnight at St John's CE Foundation Middle School in Bromsgrove.
Police said the thieves forced their way in after making a hole in the roof to access the tanks in the loft space.
Three classrooms were flooded, some ceilings collapsed, while electrics and computer servers were also damaged.
About 600 pupils were sent home.
Head teacher Wendy Taylor said construction workers and school staff faced a race against time to get the school ready in time for the new term.
An air conditioning unit was also stolen, which in turn damaged the school's computer servers, Ms Taylor said.
As well as damage to the building, she added that the school would have to reorder thousands of pounds worth of new books.
Heart bleed
Carl Oakes, who has two children at the school, said. "It's happened before when lead was taken from the roof and it really makes me cross.
"It's hard times for everyone but children's education is important - what message does stealing give out to them?
"It just makes your heart bleed thinking how [the school is] going to get this all fixed," he said.
The school was also damaged by flash floods just two weeks ago.
Ms Taylor said: "We had three corridors where we were paddling.
"This is just another incident that's going to cause a lot of heartache and hard work for a lot of people."
West Mercia Police said officers were gathering CCTV footage, as well as speaking to people in the area and visiting local scrapyards.
Staff said a prize-giving ceremony would go ahead in St Johns Church on Tuesday and the school prom will also take place as planned on Thursday.