Woman dies after workmen drill above her hospital bed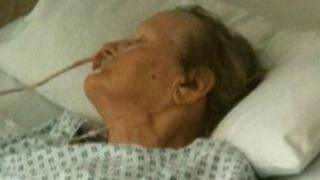 The NHS has apologised to the family of a 76-year-old woman with pneumonia who died less than two hours after three workmen were found drilling holes above her bed at a Worcestershire hospital.
June Barnett, from Ronkswood, had been recovering from a cardiac arrest at Worcestershire Royal Hospital.
The men, who had been upgrading a patient entertainment system, were asked to leave the bay by her son.
The NHS described what happened on 27 April as "inexcusable".
The 76-year-old had spent three days in a high dependency unit following the cardiac arrest suffered while she was in hospital, but had been moved on to a ward.
When her son, Colin, arrived unexpectedly on the morning of her death he found the men installing an entertainment station above her head.
The workmen, who had been in the room for 40 minutes, were asked to leave by Mr Barnett at 11:40 BST.
'No dignity'
Mr Barnett said he then watched his mother die between 13:00 and 13:30 BST.
He said: "It was a terrible shock to see my mother with no dignity.
"She was an object. They were treating her like a piece of meat.
"There was no care."
In a letter to the family, the hospital described the events as "inexcusable" and said there had been a serious error of judgement by the junior sister who was trying to manage patient flows through the ward.
The family also claim that they were given no indication that their mother had been dying or that she had had pneumonia until they contacted the coroner.
The chief nursing officer for Worcestershire Acute Hospitals NHS Trust, Helen Blanchard, said: "Our prime concern is the welfare of patients within our care, but we can't discuss an isolated case.
"We've fully responded to Mr Barnett's concerns and apologised for any distress caused.
"We have offered to meet with the family to discuss any outstanding issues."
The NHS trust was lambasted by the Care Quality Commission in May 2011 for the quality of elderly care at the Alexandra Hospital in Redditch.