Archaic church law hits 'ordinary people' in Broadway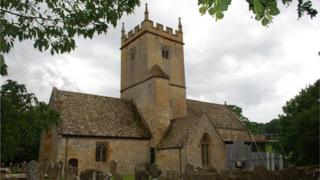 Nestled in the the heart of the Cotswolds is the village of Broadway - a place filled with tourists, tea rooms, gift shops and galleries.
However, all is not peaceful in this picturesque setting with up to 30 households unhappy at the prospect of being forced to pay towards the upkeep of one of the churches.
Resident Cathy Whamond said she was "devastated" to receive a letter explaining they could be made to pay towards St Eadburgha's Church because of an archaic law, chancel repair liability.
She said: "I can't sleep… It's horrendous. I can't really see any way out."
She and her husband Bill live about two-and-a-half miles from the church, which is nearly a mile outside the main village.
"It's just affecting ordinary people," she explained. "We're retired and [this possible payment] is what we've got to look forward to."
Mr Whamond added that it came "completely out of the blue".
No amount has been finalised, and it is not known what would happen if villagers refused to pay. The Church is trying to ensure that the villagers become exempt from payment.
No repair plans
Parochial church councils have until October 2013 to get the Land Registry to put chancel repair liability onto the deeds of properties.
Failure to do so means the liability could fall completely to the church, and liability cannot be enforced against a household after that time.
The law first came into the public domain when a couple from Aston Cantlow, Warwickshire, were ordered to pay more than £200,000 for repairs to a church, which fell within land they inherited in 2003.
The 30 households in Broadway are scattered across the village, as the properties date back to previous layouts from hundreds of years ago.
The feeling around the village is much the same as that of Mr and Mrs Whamond, even among those who have not had the letters.
Working together
Sue Smith, who works in the post office, suggested it was up to the individual, "as you would [contribute to] a plate on Sunday".
Basil Turner, who has lived in the village all his life, said he did not agree with the law.
Mr Turner said: "If they want to pay, let them pay, if they don't, don't let them."
'Just horrible'
A Diocese of Worcester spokesperson said the parochial church council had sought to register properties for a chancel repair liability, but it did not want to enforce it.
Reverend Michelle Massey, who oversees both St Eadburgha's Church and St Michael and All Angels Parish Church, said she hoped villagers would not have to pay.
She is writing a letter to the Charity Commission asking for an exemption and for them to grant "section 110", which protects both the parochial church council and the parishioners.
Reverend Massey said: "The parochial church council are in a no-win situation. If they didn't send out the letters, then they would themselves be held negligent and liable for the chancel and are in breach of charity law, because they are a charity…."
"If we do send them out, we are putting this out on our friends and neighbours, which is just horrible.
"We've passed that we don't wish to enforce this, and the letter will be sent this week."
The Conservative Mid Worcestershire MP Peter Luff is also campaigning to help the residents, and feels there is a "longer term problem" with "underlying legal issues."
He said: "I don't want to take away the obligation on rich land owners who can actually fund chancel repairs, I do want to sort the problems of private householders who really shouldn't face this monstrous imposition."
Robert Higham, diocesan secretary for Worcester, added: "It is vital that, in the light of the experience of places like Broadway, there is a discussion nationally with the Charity Commission to review guidance to parochial parish councils about finding the best outcome for their church and the communities they serve."