Cameron Wood from Herefordshire to carry Paralympic flame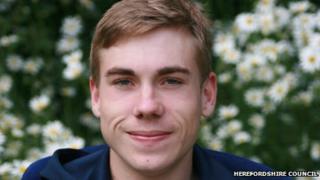 A teenager from Herefordshire has been chosen as the county's torchbearer for the Paralympic flame.
Cameron Wood, from Whitecross has hydrocephulas, a brain condition, cerebral palsy and is visually impaired.
He will collect a part of the Paralympic flame from London on 24 August to bring back to Hereford for a celebration event the following day.
The 15-year-old said it was "an honour."
He has been selected from a list of nominated Paralympic athletes after an appeal by Herefordshire Council.
Cameron also recently won the regional Riding for the Disabled Championships.
There is no nationwide relay for the Paralympic torch, instead a flame with be lit in the capital cities of each home nation.
The four torches will leave the capital of each of the home nations and be taken to Stoke Mandeville, the home of the Paralympic Movement, where they will be combined into a single flame.
A 24-hour relay will take the combined torch from Stoke Mandeville to light the cauldron at the opening ceremony of the London 2012 Paralympic Games on 29 August.
Locog has announced the first 332 people chosen to carry this flame.
The council said Cameron has recently completed the Hereford half marathon and raised £2,000 for the city's special care baby unit.
Paralympic flame celebrations are being held in Hereford on 25 August at the Royal National College for the Blind.