Beef exports to Russia discussed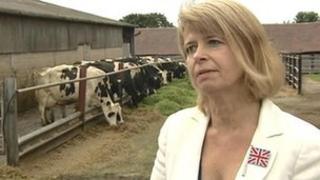 Cattle experts and MPs are to go to Russia to discuss exports of British beef following a 16-year ban.
British farmers have been prevented from exporting to Russia following the 1996 BSE outbreak in the UK, despite it being lifted worldwide in 2006.
West Worcestershire MP Harriett Baldwin is going to the Bryansk region along with the MP for Tiverton and Honiton Neil Parish.
Mrs Baldwin said Russia was looking to source 250,000 new cattle to its stock.
The Conservative MP said the UK breeds suggested would help give Russia "the means to grow their own".
A worldwide ban of British live cattle, meat and products was lifted in by the EU in 2006. However, Russia kept the ban in place amid fears over the threat of Bovine Spongiform Encephalopathy (BSE).
Mrs Baldwin said there was a "commitment to re-examine" the ban by Russia.
Joining the two MPs as part of the delegation will be UK chief veterinary officer Nigel Gibbens, National Farmers Union (NFU) vice president Adam Greenier and cattle expert Dan Morris.
Russia's climate is similar to the UK's and needs "a sturdy hardy type of cattle like perhaps Aberdeen Angus or Hereford's that could really withstand that range of temperatures," Mrs Baldwin said.