About 1,500 people at Redditch Alexandra Hospital rally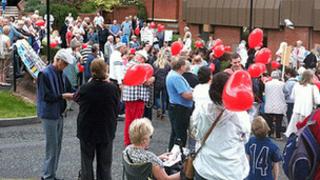 About 1,500 protesters have attended a rally against the possible closure of units at a Worcestershire hospital, campaigners say.
They are concerned about the future of the accident and emergency unit and maternity services at Redditch's Alexandra Hospital.
The trust which runs the hospital proposes to close the units as part of a bid to save £50m by 2015.
A rally, organised by the Save The Alex group, was held at Redditch Town Hall.
The Worcestershire Acute Hospitals NHS Trust (WAHT) which runs hospitals in Redditch, Kidderminster and Worcester announced a shake-up of services in June.
'A clear message'
Save The Alex chairman Neil Stote described the hospital as "good and safe". He added that both of his children were born there and he was "concerned" when he first heard the news that the units might be closed.
He said: "Our petition is over 46,000 which is a huge number and we are encouraged to have the rally today.
"The atmosphere was amazing. We had red heart-shaped balloons and about 200 people wrote their news and thoughts on a graffiti wall for the trust to see.
"[It] gives a clear positive message that people from Redditch, Bromsgrove and the wider area can make a difference."
In a statement, WAHT said: "All views expressed so far, including by campaigners, correspondence and at our seven public meetings, will be taken in to account before any final decisions are made."
The trust added a three-month public consultation would begin in November.