Usain Bolt: Alex Donaldson carries sprinter's gold medal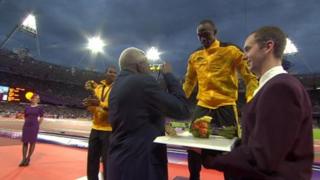 A Worcester student said taking part in the presentation of an Olympic gold medal to Jamaican sprinter Usain Bolt was an "unrivalled" experience.
Alex Donaldson was the medal bearer at the ceremony for the men's 100m at about 20:30 BST on Monday.
The 21-year-old, who is one of the volunteers working at the games, carried the medals into the stadium.
The University of Worcester student said he was glad Bolt bent right down to get the medal because he is so tall.
"You can't keep your eyes off him because he is so entertaining," he said.
"I was rooting for him to win because that's who I wanted to present the medal to."
Mr Donaldson, who is studying sports coaching science, said he was told about a week ago that he was to carry the medal.
He said his volunteer colleagues were "jealous but also very happy for me".
"I just feel so lucky," he said.
"To be out there in front of 80,000 people... I can't believe the honour."
He added that being in the Olympic stadium to see the 100m final on Sunday night was "the best experience of my life".
Mr Donaldson said he believed his charity work had helped get him selected as a volunteer.
He does voluntary work with Worcester Blind Football Club, Worcester Wheelchair Basketball and Worcester Snoezelen - a charity for people with severe learning disabilities.
Locog said 240,000 people applied to be one of the 70,000 volunteers working at the games.