Evesham Roman coin hoard £40,000 appeal launched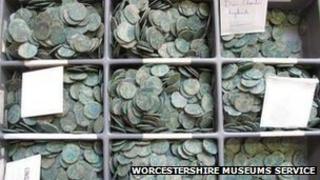 An appeal to raise £40,000 to buy a Roman coin hoard uncovered in Worcestershire has been launched.
Metal detector enthusiasts discovered about 3,800 coins, dating back to the 3rd Century, in a clay pot at Bredon Hill, near Evesham, last year in June.
The hoard was declared to be treasure in October and is currently held in the British Museum in London.
Worcestershire County Council hopes to raise the money within four months to bring the collection back to the area.
Metal detector enthusiasts Jethro Carpenter and Mark Gilmore discovered the hoard in June last year.
The coins are mainly bronze, with some silver content, and feature 16 different emperors, spanning 38 years.
A spokesperson from the council said almost £1,4000 was made in donations by members of the public visiting the Worcester City Art Gallery and Museum when the hoard was on temporarily display last year.
Another £38,600 is needed to put the collection on display at locations across Worcestershire, the council said.
Philippa Tinsley, senior curator for Museums Worcestershire, said: "We made a brilliant start to the campaign to keep the hoard in the county, every little will help to keep this wonderful treasure in the county where it belongs."
The coins represent the largest hoard of Roman artefacts ever found in Worcestershire.