Worcestershire family target 'life-changing' surgery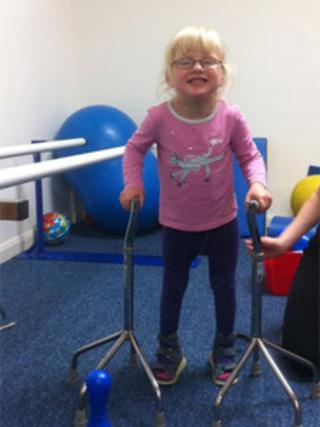 The father of a three-year-old girl who is due to to travel to the US for "life-changing" surgery has said he has been "amazed" by the level of local support.
Molly Grove, of Broadway, Worcestershire, suffers from a form of cerebral palsy and can only walk with the aid of a frame.
"She's so happy. She never moans or groans, but she does suffer," her father Richard, 34, said.
"She gets pain from the spasms in her legs and she can't keep up with other children."
A campaign to raise £55,000 to take her to the US for surgery not widely available in the UK is only £5,000 short of its target, after just two months.
"It's amazing really. We've got Molly's date [for surgery] booked for 16 October and we anticipated it would take us that long to achieve our target," Mr Grove added.
Some £10,000 has been donated by PR consultant Max Clifford, who lives in the county. Local businesses and individuals have also donated funds or items for auction.
Spinal cord
The campaign has also been supported by the Cauldwell Children charity, which said it had helped more than 20 other families across the country access the selective dorsal rhizotomy (SDR) surgery.
The operation, which is due to be performed at St Louis Hospital in Missouri, reduces muscle tightness by cutting abnormal nerve roots that come from the muscles and enter the spinal cord.
In the UK, SDR is rarely performed on children under four years old, under guidance from the National Institute for Health and Clinical Excellence (Nice), based on evidence from a study focussing on four to 10-year-olds.
Mr Grove said he hoped the surgery would "change her life".
The £55,000 is expected to fund treatment, a lengthy hospital stay and long-term physiotherapy.