Hereford Racecourse will not host 2013 race meetings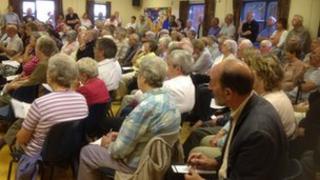 There will be no meetings at Hereford Racecourse next year, the British Horseracing Authority (BHA) has said.
Herefordshire Council is hopeful a community-led group will take over its running after plans were announced to close it at the end of the year.
But the BHA has said regardless of any deal to save the course, there will be no fixtures there in 2013.
Owners Arena Leisure and Northern Racing said they planned to shut it because the site was not viable.
They said the current 17-year lease made it difficult to invest in the racecourse and confirmed that races due to take place at Hereford in 2013 would be run at other venues.
'Viable business proposal'
Herefordshire Council said its main focus was still on trying to agree a deal on the lease with the current operators and that a meeting had been arranged with Northern Racing for September.
Council leader John Jarvis said he was "hopeful" that racing would return to the course in 2014.
He said: "Although we can't save the races for 2013 we've received correspondence from the BHA who've said they'll do everything in their power to help us for 2014, so that's good news."
A spokesman for the BHA said: "If a viable business proposal is put together then we would provide guidance in terms of what the criteria are in order to receive a racecourse licence and fixtures for the 2014 fixture list."
A consortium fronted by the former clerk of Hereford racecourse John Williams, which claims to have £1m of investment, has expressed an interest in running the venue.
More than 200 people attended a public meeting about the future of the racecourse at Westfield Hall in Hereford on Wednesday.