Teenagers protest against Redditch Youth Centre closure plans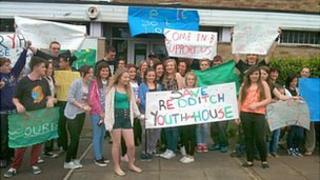 More than 40 teenagers have protested about the planned closure of a Worcestershire youth centre.
Redditch Youth Centre in Ipsley Street is due to close in mid-autumn.
The planned closure is part of £1.4m cuts to Worcestershire youth services, the county council said.
Negotiations are ongoing to ensure the service to young people currently on offer at Redditch Youth Centre remains in place after it closes, a council spokesperson said.
The planned cuts have affected youth services across the county, with some youth clubs already moving to different premises or ownership, the authority said.
Bromsgrove's Ryland Centre youth club will be taken over by Sandwell Leisure Trust on 1 September.