Harriett Baldwin MP optimistic after Russian beef mission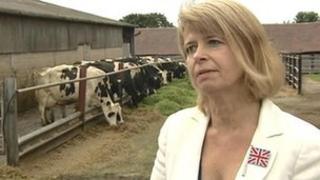 A Worcestershire MP who joined cattle experts on a visit to Russia to discuss possible exports of British beef has said the trip was "very useful".
British farmers have been prevented from exporting to Russia following the 1996 BSE outbreak in the UK, despite a worldwide ban being lifted in 2006.
West Worcestershire MP Harriett Baldwin said Russia was looking to source 250,000 new cattle to its stock.
She said that although the ban remained in place, she was "very optimistic".
Mrs Baldwin said: "We're not expecting any change of the meat ban in the immediate future in terms of this particular visit, but it is part of a process of meetings that we hope and are very optimistic will lead to a good outcome."
The Conservative MP said she hoped to take the discussion "up to the next level and perhaps have some progress at a ministerial level".
She said exporting to Russia could be worth £120m a year to the UK.
A worldwide ban of British live cattle, meat and products was lifted in by the EU in 2006, although Russia kept the ban in place
Russia's climate is similar to the UK's and needs "a sturdy, hardy type of cattle like perhaps Aberdeen Angus or Herefords that could really withstand that range of temperatures," Mrs Baldwin said.