Worcester councillor 'should resign' over grave-dig threat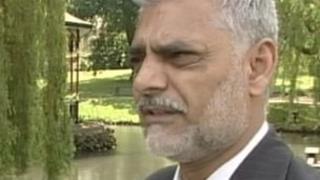 The leader of Worcester's Labour group has called on a former mayor to resign over threats to dig up a man's body if his family did not pay for the burial.
Councillor Allah Ditta, who manages the private Muslim cemetery in Perdiswell in the city, was reported as threatening the deceased's son.
Leader of Worcester City Council's Labour group, Adrian Gregson, said: "There is no excuse for his behaviour."
Mr Ditta, a Conservative councillor, has now apologised "unreservedly".
Mr Gregson said: "I'm quite appalled for a number of reasons, if he was an honourable man he would resign.
"He is the leading councillor in dealing with these kind of matters and appears to have failed miserably in that respect."
'Unfit for office'
Lucy Hodgson, chairman of the Worcester Conservative Association, said: "We have received no official complaints and he remains a member of the Conservative Party and a member of the Conservative group.
"He has made an official apology and he has issued a statement apologising to the family for any concerns that were caused. He understands that he overstepped the mark.
"The dispute is a contractual dispute between Mr Ditta and the gentleman involved."
Mr Ditta told the BBC on Thursday the words were said in "the heat of the moment" and he had no intention of carrying out the threat.
He also said a family member had since agreed to pay the £400 bill.
Mr Gregson said Mr Ditta had breached the code of conduct councillors are expected to adhere to.
He said: "I'm afraid he has demonstrated he is unfit to hold office and he's done nothing but damage race relations.
"His friends and allies should advise him he has no future on the city council."
The council is a Conservative minority administration.