Croome Court: Red Wing restoration appeal launched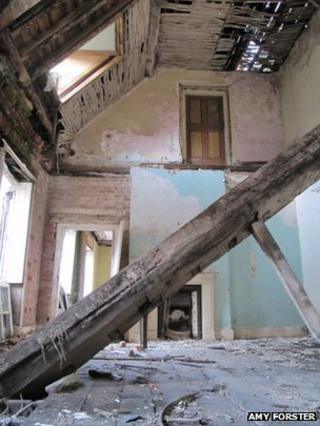 An appeal has been launched by the National Trust to raise £350,000 to restore part of a Worcestershire stately home.
English Heritage has already promised a grant of £500,000 to restore the Red Wing of Croome Court, near Pershore.
The Grade I listed building was bought in 2011 by the National Trust, English Heritage, Malvern Hills District Council and the Croome Heritage Trust.
The wing is in the highest category on English Heritage's at risk register.
It was designed by the famous landscape artist Lancelot "Capability" Brown.
Built of red brick, it was added to the Georgian mansion house in the 1750s as the servants' quarters, kitchens and offices.
Oral History
The National Trust said the wing has been empty since the late 20th century. Floors and much of the roof have fallen in, staircases have collapsed and the stone and brickwork have decayed.
The trust has erected covered scaffolding to protect the wing and has already carried out emergency repairs and surveyed the building.
If enough funds are raised, work will start during the winter to limit disturbance to the bat population that roosts in the building, the trust said.
It hopes the building's structural shell will be complete in 2014.
The trust is also searching for local people's personal memories and family stories of the Red Wing to compile a history of the former servants' quarter
Project manager Shaun Wilkes said: "Any information, photos, historical snippets or memories will be gratefully received."