Speed limit cut on B4084 near Pershore after fatal crash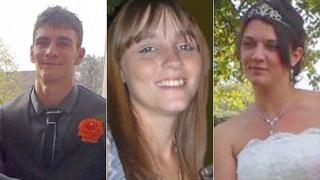 The speed limit has been cut on a Worcestershire road where a woman, her brother and his partner were killed in a car crash in June.
Elizabeth Stanley, 24, her partner Luke Morris, 22, and Mr Morris's sister, Rebecca Townsend, 26, died when their car left the B4084 and hit a tree.
The speed limit in Wick, near Pershore, has been reduced from 50 to 40mph.
Worcestershire County Council said a safety review of the B4084 was already under way before the crash happened.
Peter Edmonds, vice chairman of Wick Parish Council, has called for the lower speed limit to be extended to cover a blind summit near the village.
John Smith, from Worcestershire County Council, said: "Once the coroner's report has come out on the fatalities, if there are any recommendations from that we will look at that and deal with them in an appropriate way."
An inquest into their deaths will resume at Worcestershire Coroners' Court in Stourport on 17 September.