Worcester jobs fair attracts large turnout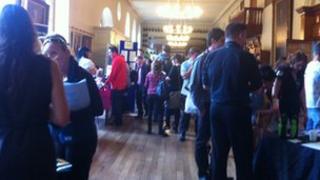 There has been a huge turnout at a jobs fair in Worcester where 500 vacancies are being advertised, according to the organisers.
The fair has been organised by the county council with Jobcentre Plus and the Worcestershire Local Enterprise Partnership.
About 35 employers are taking part in the event in Worcester's Guildhall.
Jobs in design, construction, retail and social care are being offered at the fair.
Lisa Hayes, from Worcester, who is unemployed and went to the fair, said getting back to work was "a struggle".
She said with so many people looking for work at the moment the job market is a "free for all".
A spokesperson for Debenhams, which is taking part in the fair, said they have no problem filling Christmas and sales jobs, but that applications for technical jobs were "slower".
Organisers said they expected more than 1,000 people to attend the fair.