Campaigners criticise south Worcestershire homes plan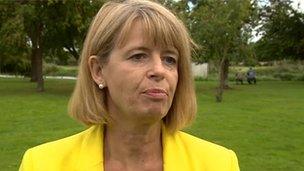 Campaigners have called for a re-think on plans to build thousands of homes in south Worcestershire.
A public consultation on the South Worcestershire Development Plan closed on Friday, with proposals to build more than 23,000 homes in the area by 2030.
More than 10,000 of the homes have already been built or been granted planning permission.
Opposition groups said many of the proposed homes are in the wrong place, with little thought for infrastructure.
Harriett Baldwin, Conservative MP for West Worcestershire, said villages should be given more time to develop their own plans.
She sad: "I was out in Beckford, near Bredon Hill, and they had an exhibition on 5 September on what was planned for their village and a new field has been allocated in the plan over the summer.
"They don't feel they have had time to respond to that or turn things around with an alternative. I think they could have had more time."
She said other villages in the area, including Martley, Kempsey, Powick and Welland, also wanted to work on their own development plans.
The South Worcestershire Development Plan (SWDP) will form the basis for decisions in the south of the county up to 2030 and a more detailed plan is expected to be published next year.
Worcestershire councillor Marc Bayliss said it was important to create a development plan to allow local people to decide where homes are built.
Without a plan he said the council "would be at the mercy of developers", with the government calling for a relaxation of planning laws to make it easier to build new homes.
Related Internet Links
The BBC is not responsible for the content of external sites.