Broad Street Hereford development plans on hold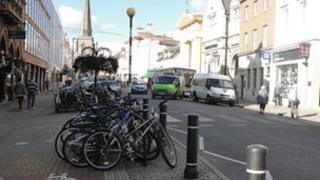 A year-long redevelopment of central Hereford has been put on hold because it could "harm local businesses", Herefordshire Council has said.
The plans involved resurfacing all of Broad Street, creating separate lanes for traffic and cyclists.
Funding for the planned £2.9 million redevelopment came from the Department for Transport.
The council said the money will now be used for a "major expansion" of the city's cycle networks.
Jesse Norman, MP for Hereford, said: "I am very pleased that the council has been listening closely to the concerns of local businesses about possible disruption from the renovation of Broad Street."
A consultation process about the Broad Street plans was held over the summer.
The council said it has paid particular attention to the concerns of retailers who did not want to face the months of disruption that would have been caused by the scheme.
'Disruptive' to trade
Councillor Graham Powell said: "It is clear that in the current economic climate, now is not the right time to go ahead with the scheme."
Hereford and Worcester Chamber of Commerce said the council had listened to local business opinion that the work would have been "disruptive to their trade for a long period".
The chamber said it was "encouraging" that the investment will be redirected to the expansion of the city's cycle networks as a way to ease congestion.
Details of new cycle schemes will be announced over the coming months, the council said
They are likely to include extending the cycle network out to Clehonger, providing a cycle route along Whitecross Road and Kings Acre Road and providing direct cycle access to the city centre from St Owen's Street.