Burglar's dog attack prompts village to offer reward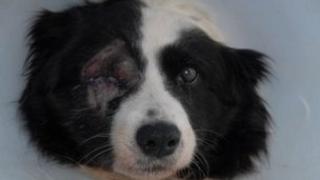 A Worcestershire village have clubbed together to offer a £500 reward to catch a burglar who badly injured a pet dog during a break in.
Kiri, an eight-year-old collie, belongs to an elderly woman in the village of Stoke Prior.
The attack during a burglary on 2 September left the dog in danger of losing one of her eyes.
West Mercia Police said the dog was attacked "quite viciously" in a burglary where only a purse was stolen.
Kiri's owner, who does not want to be identified, said: "I can't believe anyone could be so heartless and cruel to an animal.
"It has made me very nervous about going out and leaving her alone."