Bugatti Type 51 'master forgery' fetches £250,000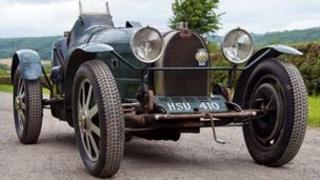 A replica Bugatti described by auctioneers as a "master forgery" has sold for more than £250,000.
Auctioneer James Dennison said the car was a "very skilfully executed replica" of a 1931 Bugatti which won the Casablanca Grand Prix.
The copy of a Bugatti Type 51 had been lying unused in a garage in Hartlebury, Worcestershire for nine years.
Mr Dennison said people travelled from across Europe to bid on the car, which had been expected to fetch £100,000.
He said they also received phone bids from Italy, Germany, Belgium, and France. The car was eventually bought by an anonymous English bidder.
Genuine parts
The car had been owned by car enthusiast Alan Riley, who believed it to be the Bugatti driven by Count Stanislas Czaykowski in races in the 1930s.
Mr Riley died earlier in the year and his widow contacted the classic car department of Brightwells auctioneers based in Leominster, Herefordshire.
Mr Dennison said: "We spent most of the day cutting down trees and removing earth to get it out of its garage because it was completely blocked in by undergrowth, and I personally was the first person to see it for about nine years."
The car was examined by David Sewell, a Bugatti expert, who decided it was a replica made using a mixture of genuine and reproduction parts, including some from the Czaykowski vehicle.
The auctioneers estimate the original car would have been worth more than £2m.