Kidderminster Street Pastor team start Friday patrols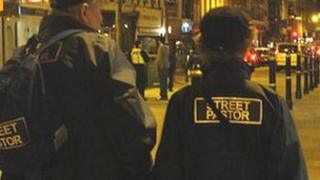 A team of street pastors has begun patrols in Kidderminster.
The group of 16 volunteers, from Churches Together, are based at Baxter United Reformed church and will be on patrol in the town every Friday.
Reverend Derek Arnold, chairman of the group, said West Mercia Police asked him 18 months ago if he had considered introducing a team to the area.
If successful, there are plans to patrol Saturdays in Kidderminster and expand to Bewdley.
A team of street pastors started in Worcester in 2010 and there are plans to introduce them in Bromsgrove.