Rural Worcestershire schools stage budget protest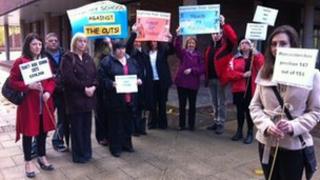 Teachers and governors from rural schools in Worcestershire have staged a protest outside the county council's headquarters over funding fears.
The protesters claim government changes in the funding formula will disproportionately affect schools in rural areas.
The council insists that the "vast majority" schools will not notice "any real difference in their funding".
The formula will be reviewed again in 2014, a spokesman said.
From April 2013 all schools will get the same lump sum and will be able to apply for extra funding based on criteria such as the number of pupils with special needs and the levels of deprivation in the area.
Winners and losers
Being in a rural area will no longer be a factor in claiming extra council funding.
The extra funding was to help rural schools which often have smaller numbers of pupils.
Alison Glieve, chair of governors at Wychbold First and Nursery School said that if the budget is cut they may have to consider restructuring the school, including possibly sharing a head teacher with another school.
Jane Potter, cabinet member for education and skills at Worcestershire County Council, said however the formula was changed there would be "winners and losers".
Protesters claim the change in formula means budgets for rural schools could be cut by around 20%.
Mrs Potter said that a minimum funding guarantee meant that no school would lose more than 1.5% per pupil.
She said: "I'm afraid if we changed the formula I would be sitting here talking to a different set of schools and answering exactly the same questions."