West Mercia PCC candidate in donation pledge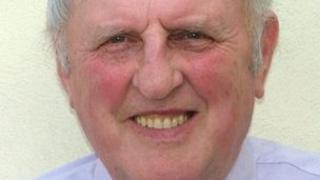 One of the candidates standing to be the West Mercia police commissioner has said he would donate £20,000 of the £75,000 salary to a charity fund.
Independent candidate Bill Longmore made the comments at the first of several hustings across Herefordshire, Worcestershire and Shropshire.
Labour candidate Simon Murphy said he would keep the full salary while Conservative candidate Adrian Blackshaw called Mr Longmore's move a "gimmick".
The election will be on 15 November.
Retired businessman Mr Longmore, who also worked with Staffordshire Police for more than 30 years, said he wanted to use the £20,000 to set up a charitable fund.
He said it would be used to help fund crime prevention measures and to help the victims of crime.
'Happy to do that'
He said: "I've reached a stage in my life where I would rather prefer to give away to people who can enjoy it.
"My wife and I already do that with with various sponsorships and I am quite happy to do that."
The first of the hustings was held at the University of Worcester. Further debates will be held before the election across the police force's area.
When asked if he would donate the same amount of money to a similar fund, Mr Blackshaw said: "It's not a 'no', it's not a 'yes'."
Mr Murphy said: "It's a big salary but no, I would not go down that route.
"It's not an appropriate way to go about it but it's down to the voters to decide."