Worcester £10m art quarter planned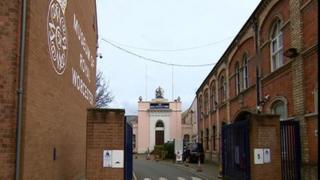 Plans are being drawn up for an arts quarter in Worcester which would include a concert venue and gallery.
The project, which is the brainchild of CryoService founder Colin Kinnear, would develop the site of the old Royal Worcester porcelain factory.
KKE Architects is carrying out a feasibility study for the plan linking Diglis, the cathedral and River Severn.
Managing director Vincent Kirk said the "amazing idea" was inspired by Paris's artistic Left Bank.
Under the proposals which are at an early stage, former porcelain factory buildings would be converted into a hub for the arts in the city.
Mr Kirk said Mr Kinnear was a strong supporter of the arts in Worcester.
"Bringing that [Left Bank] to Worcester is quite an idea and you can imagine as an architect that would really get you going," he said.
The development is expected to cost at least £10m.
And Marc Bayliss, deputy leader of Conservative-led Worcester City Council, said it could boost the city.
"We have in Colin Kinnear somebody who is looking to act as a philanthropist to invest in the arts in Worcester and to help create something of regional, if not national, fame and that's really great news," he said.