Guardian Self Storage customers still waiting to find missing items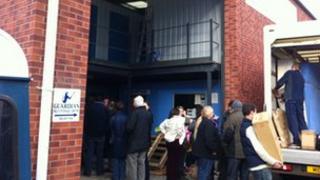 Customers with items left at a Worcester storage company which is in liquidation are still waiting to locate their possessions.
Last Friday customers were invited to Guardian Self Storage on Sherriff Street Industrial Estate to retrieve their belongings.
Jeanette Weir, 60, from Droitwich, said she still had not tracked down "the full contents" of her flat.
It has not been possible to contact the managing director of the firm.
Guardian Self Storage has gone into voluntary liquidation and its website has advised customers to contact solicitors Hallmark Hulme.
'Ill with stress'
Ms Weir, who has been to the police, was waiting for a letter from the liquidators to find out where her belongings had been taken.
She said: "I've been quite ill with the stress of it all recently, the full contents of my flat was in storage so that includes personal things and photos.
"I feel the whole thing has been handled very badly and the nature of the business means innocent third parties should have been contacted."
Ms Weir said she had been paying for a container to store her belongings with the firm since 2008.
Chris Fredericks, 61, runs Absolutely Fabulous Flooring Limited and said he has been unable to locate £8,000 worth of tools and equipment.
He said: "We've been told there will be another opportunity to go and have a look in the unit on Sherriff Street but we're still waiting to hear when."