Broadway villagers opposed to housing development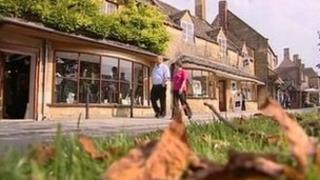 Residents in a Worcestershire village have begun a petition in a bid to prevent new homes being built there.
Wychavon District Council said 136 properties were being considered as part of the South Worcestershire Development Plan (SWDP).
The Save Broadway group has been set up to stop the development on the edge of the Cotswolds settlement.
A council spokesman said new properties would not have a negative impact on tourism but campaigners disagree.
Former Broadway Parish Council clerk, Eddie Vickers, said about 600 villagers had attended a recent Save Broadway meeting.
He said: "People don't come from all over the world to see housing developments. They come here for an experience.
"They want to see something that is truly magical.
"This community should be shaped by what the local population want.
"We want our own people to be able to have affordable housing.
"The problem Wychavon have got is that they've had these quotas thrust on them by central government top down, not bottom up as the original policy said."
The SWDP is a joint proposal between Wychavon District Council, Malvern Hills District Council and Worcester City Council.
Wychavon's head of housing and planning services, Giorgio Framalicco, said the authority had a responsibility to protect settlements that were in an Area of Outstanding Natural Beauty (AONB) but it "needed to be balanced against the wider housing need".
Mr Framalicco said: "We need to look at the needs of a local area and plan a sympathetic, carefully designed development that can be accommodated within the AONB.
"Tourists will still go to Broadway.
"New developments on the edge, if they are sympathetically designed, are not going to put people off."