Alvechurch School coach crash: Victims sue ski firm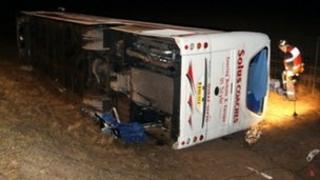 People who were injured in a fatal coach crash while returning from a school ski trip in France are suing the company which organised it.
Peter Rippington, 59, who taught at Alvechurch School in Worcestershire, died in the crash near Chalons-en-Champagne in February.
Irwin Mitchell Solicitors is representing 20 children, two teachers and two ski instructors who were hurt.
It said it had started legal action against Interschool Travel Limited.
The driver of the coach Derek Thompson, 47, was charged by French police with involuntary manslaughter in February.
He was allowed to return to the UK but will stand trial in a criminal court in Chalons-en-Champagne in 2013.
'Express sadness'
Colin McIntosh, managing director of Interschool Travel Limited, said many people were deeply affected by the coach crash and that the legal hearings "will be a difficult time for all involved, both families and individuals".
"We again express our sadness and distress to the unfortunate victims of this tragic event," he said.
Mr Rippington died and more than 20 people were hurt when the bus overturned and plunged to the bottom of a motorway embankment on the A26 near Rheims on 19 February.
Irwin Mitchell said passengers were left with multiple injuries including spine and limb fractures, lacerations and psychological trauma.
Some of the passengers are still unable to walk nine months after the crash, lawyers said.
Clive Garner from Irwin Mitchell said damages were being sought from the company, which also operates under the name Interski.
Financial security
"For those with the most serious injuries, damages will provide them with the financial security, treatment and therapies they need both now and in the future," he said.
Mr Garner said the firm had already secured "an initial interim payment" for one seriously injured child, to pay for treatment, adaptations to her home to make it wheelchair accessible and to fund a suitable vehicle.
Toni Smith Carrington's 12-year-old daughter Freya, from Bromsgrove, suffered an open fracture to her thigh in the crash.
She said: "All I can hope for is that we get Freya the treatment and rehabilitation therapy she needs to recover as much as she can from her injuries.
"She can't enjoy time with her friends socialising as much as she used to because she just can't walk very far any more and struggles when she goes out."