Danny Nightingale SAS case 'miscarriage of justice'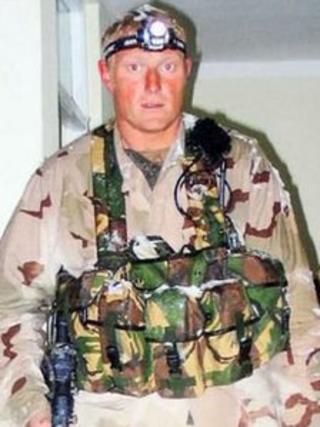 MPs have described a decision not to review the case of an SAS soldier jailed for possessing a "war gift" pistol as a "miscarriage of justice".
Attorney general Dominic Grieve had said it would be "inappropriate" to look into the case of Sgt Danny Nightingale - detained for 18 months.
The Solicitor General Oliver Heald said Nightingale had the right to go to the Court Martial Appeal Court.
His wife Sally said an appeal would be lodged on Wednesday.
A special debate was held in the House of Commons on Tuesday where MPs criticised the decision after Defence Secretary Philip Hammond had written to Mr Grieve.
Some MPs had demanded ministers intervene and prevent military prosecutors from opposing the father-of-two's appeal.
Conservative MP for Canterbury Julian Brazier, a former member of the Territorial SAS, urged Mr Heald to "allow the planned appeal to go through unopposed".
Tory MP for Newark, Patrick Mercer, a former soldier who has sat on court martial panels, said the case could affect morale in the armed forces.
He said: "I would suggest that this will operationally affect not just our Special Forces, but every soldier, sailor, airman and Royal Marine, who puts his or her life on the line for their country and understands that their country owes them a debt of honour.
"I would urge you that should an appeal be put forward, you will not seek to oppose it."
'Very disappointed'
Nightingale, of Crewe, Cheshire, pleaded guilty at a court martial earlier this month to illegal possessing a Glock pistol and ammunition, which were found by West Mercia Police at his Hereford accommodation.
Friends and family say the soldier did not pack the pistol himself and a brain injury meant he had forgotten it was still among his belongings.
Supporters of Nightingale said the pistol had been given to him by Iraqi soldiers he had helped to train and it had been packed by colleagues after he had left Iraq quickly to help organise the funerals of two comrades.
Mrs Nightingale said: "I was extremely hopeful of an early decision on Danny's fate after the announcement of the Defence Secretary, who asked for a review of his case.
"I'm very disappointed that the attorney general has refused to do so.
"The appeal is being lodged and I hope that he will at least consider reviewing any decision by the Service Prosecuting Authority to oppose the appeal and seek a re-trial if Danny's conviction is quashed."
The soldier's solicitor Simon McKay said he was confident of the prospect of an appeal.
So far more than 35,000 people have signed a petition calling for the case to be reviewed.