Floods close two schools in Worcestershire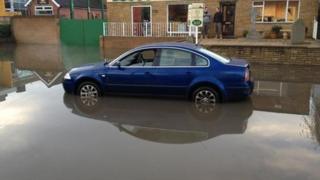 Two schools are closed in Worcestershire as a result of flooding, as more heavy rain is expected.
Prince Henry's High School in Evesham is closed because of flooding in the area, the county council said.
And Sedgeberrow CE First School in the town is shut because the road to it is impassable.
Flood warnings are still in force for stretches of the Avon, Teme and Severn in Worcestershire and the Wye in Herefordshire.
But the Environment Agency has reduced the number of flood warnings for the Midlands to 92 from more than 150 earlier.
The flood barriers are up on Worcester's Hylton Road and Hereford and Worcester Fire and Rescue Service (HWFR) has advised drivers to allow extra time for journeys and not to drive through floodwater.
Worcester City Council said Pitchcroft car park was closed by flooding, while those at Newport Street, Croft Road and Cattle Market were partly flooded but were open.
About 30 homes in Kempsey were evacuated on Sunday morning when £1.7m water pumps failed.
The new flood defence pumps failed to operate automatically at about 05:00 GMT, the agency confirmed.
It said an engineer was stationed at the pumps overnight to activate the system manually.
The flood alleviation scheme, which includes pumps and a long earth embankment, opened in the summer and aims to stop floodwater from the River Severn backing up in a brook which leads into Kempsey.
BBC Inside Out featuring the flooding situation will be on BBC One in the West Midlands region on Monday, 26 November at 19:30 GMT and can be watched on the iPlayer for seven days thereafter.