Floods cause delays on Worcestershire roads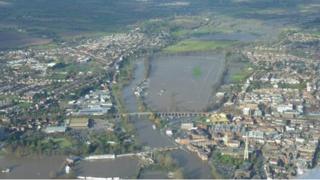 Flooded roads are still causing some delays for drivers in Worcestershire where a number of flood warnings along the River Severn remain in place.
Eckington Bridge and the A443 Hylton Road in Worcester are among the areas affected by flooding.
Flood warnings that were in place along the Avon and Teme in Worcestershire and rivers in Herefordshire have been downgraded.
Meanwhile, businesses in Worcester say the city is open for trade as usual.
Traders from Worcester Business Improvement District (BID) fear coverage of the floods has given the impression Worcester is closed, but said its flood defences had "not been put under any real pressure".
'Handful of staff'
Erica Burlace, CrownGate Shopping Centre manager, said: "Worcester is fortunate in having extensive water meadows around the city which have not been built on, which means that although the river is in flood, the city centre has not been affected and all of our shops and the car park are open as normal.
"Only a handful of staff have not been able to get to work, but that is because of the flooding in their home areas rather than in Worcester."
The city's annual Victorian Fayre, which attracts thousands of visitors, is going ahead as usual and starts on Thursday.
The Environment Agency said parts of the Severn, including at north Worcester and Upton-on-Severn, had peaked.
Residents in Upton say the riverside town has been protected by new £4.5m flood defences, which opened in the summer.
Water levels on the River Avon at Birlingham are expected to continue falling.
Any showers in the West Midlands region are expected to clear to make way for largely dry and cold weather for the rest of week, the Met Office said.