Women bishops: Diocese of Hereford lay person in apron protest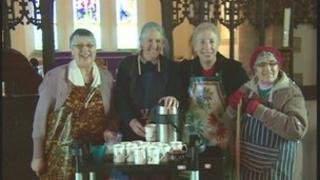 Aprons could be worn to church on Sunday in the Diocese of Hereford in protest against the Church of England's decision to reject women bishops.
Christine Walters from Stoke Lacy, Herefordshire, wants women churchgoers to wear aprons to "make a mockery of the decision".
She said it would symbolise how women were associated with domestic duties.
Last month the Church's general synod voted narrowly against the idea after it was rejected by the House of Laity.
Mrs Walters, aged 60 and secretary to the Bromyard Deanery, said: "We need to make a clear point that women are fit for roles in high office.
"I was very saddened by the vote and upset for the effect it will have on the church.
"By wearing aprons we hope people will see it as amusing, but we're also making a visual point that women are not just fit for making tea and coffee."
The measure was passed by the synod's houses of bishops and clergy but was rejected by the House of Laity.
The vote in the House of Laity fell short of approval by six votes.
Mrs Walters also said she felt the general synod was elected in such a way that the voting system did not truly reflect church members.
She said: "It's complicated because of the rules but it seems to me you can get a skewed vote and it's not proportional.
"My hope is we resolve this quickly and say 'yes' to women bishops to put us on an equal footing with men.
"Even if you're not good at saying how you feel, wearing an apron will make a point because this problem will not just go away."