Hereford skate park completed after £420,000 project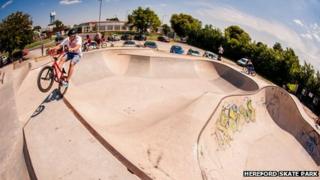 The final phase of Hereford's £420,000 skate park has been completed after eight years of planning.
Fifty young people approached the city and county councils about the need for a skate park in 2004.
The first phase was finished in March 2009 followed by the second phase in December that year.
Brian Stephens from Wheeled Sports 4 Hereford said the third phase, a £120,000 extension, was a reflection of the park's popularity.
Wheeled Sports 4 Hereford, a charity, was formed to lead the project.
International visitors
Trustee and treasurer Mr Stephens, 66, said: "We reckon we get about 10,000 visits a year and people are coming from all over the world to use it.
"It gets kids off their computers and gives them a taste of what good skateboarders are like, some of them are pretty good now."
He also said the Three Elms and St Nicholas policing team, of West Mercia Police, who donated £10,000, had said the facility has reduced anti social behaviour in the area.
The charity secured other grants, including £50,000 from Sport England, Hereford City Council, Severn Waste Environmental Fund and The Veolia Environmental Trust.
Mr Stephens said young people who use the 2,000 sq metre park also put on benefit gigs and cake sales.
He said the charity now hopes to make plans for a small indoor skate park which would cost around £300,000.