Same Christmas card sent between siblings for 40 years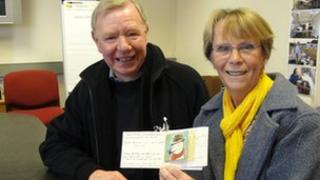 A brother and sister from Worcestershire have been exchanging the same Christmas card for more than 40 years.
Ken Payne began sending the same card back to his married sister Joyce Lampitt in 1967, as part of a family joke about his meanness.
The original card has been extended and now contains an extra 14 pages of messages.
The card is now so precious that they deliver it by hand.
Mr Payne, 75, who lives in Worcester, said: "The family used to say I was mean - so I sent them this card saying 'The world's biggest miser'. "
His sister sent the card back for his birthday in January and it has been going back and forth ever since.
Mrs Lampitt, who is 72, said: "Ken loves it because sometimes we say Happy Easter or whatever else is on - I think this year we had Happy Olympics on it as well."
She said the original card was was about 3in (7.5cm) square with a snowman on the front.
Her brother admits it "wasn't even a very good card".
Mr Payne said they had tried to get younger members of the family involved but without success.
"We're just a bit mad," he admitted.