Women bishops: Apron protests held at Herefordshire churches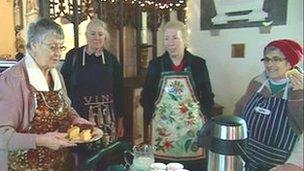 Women have worn aprons to church services in the Diocese of Hereford in protest against the Church of England's decision to reject women bishops.
Organiser of the silent protest, Christine Walters from Stoke Lacy in Herefordshire, said she had had support from congregations across the diocese.
She said: "People get the joke and that it's a silent but very solid protest."
Last month the Church's general synod voted narrowly against the idea after it was rejected by the House of Laity.
Sixty-year-old Mrs Walters, who is the secretary to the Bromyard Deanery, wore a bright yellow apron to the service at St Peter and St Paul Church in Stoke Lacy,
She said: "The wearing of aprons mocks the idea that women are only fit to serve tea and coffee but we are fit to take high office.
"We are saying to women priests we support you and we want you to be able to become women bishops."
Mrs Walters said she did not know exactly how many women had worn aprons to churches across the county, but that she had received emails and calls from many people who were supporting the campaign.
She said she hoped the protest would make a difference.
"The Church of England meet this week and I'm hoping that they agree that this is going to happen, that the provision must be made to have female bishops," she said.
The proposed legislation for ordination of women bishops was passed by the synod's houses of bishops and clergy but was rejected by the House of Laity last month.
The vote in the House of Laity fell short of approval by six votes.
Reverend Joe Kinsella, curate at St Peter and St Paul Church, said he believed the issue "could be resolved".
He said: "People are talking and there is a general consensus that it can't remain as it is and that the issue can't be fudged and left for years.
"I think it's inevitable that it will happen at some point, but the overwhelming wish is for it to happen sooner rather than later."
Related Internet Links
The BBC is not responsible for the content of external sites.