Hereford taxi driver Nikolay Hristov jailed for sex attack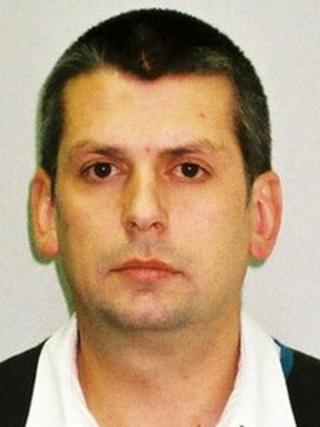 A taxi driver has been jailed for 10 years for sexually assaulting a passenger in Hereford.
Nikolay Hristov, 35, from Ross Road, Hereford, attacked the woman in his taxi in the early hours of 27 January after dropping her friend off.
Judge Toby Hooper sentenced Hristov, who is from Bulgaria, to a further three years on licence and recommended he then be deported.
Hristov was found guilty of sexual assault at Hereford Crown Court.
He will also remain on the sex offenders register for life.
'Family in meltdown'
He was found guilty by a majority of eleven to one at the end of an eight-day trial.
In a victim statement read to the court, the victim's husband said the ordeal had a life-changing effect on his wife and himself and their family had since "been through a meltdown".
The woman and her friend got into Hristov's taxi on Commercial Street following a night out in the city centre, West Mercia Police said.
The woman told her friend what had happened and the incident was reported to police.
Det Insp Martyn Barnes said after the case that Hristov was a "highly dangerous individual".
'Dignified and resolute'
"This was an appalling offence where Hristov, as a taxi driver, was in a position of trust - a position he abused in the most horrendous and predatory manner," he said.
"I would like to pay tribute to the enormous courage displayed by the victim. This crime has had a devastating impact on her life and her loved ones.
"She continues to struggle to come to terms with what occurred, made worse by Hristov who lied and attempted to deceive investigators by maintaining his innocence throughout and forcing his victim to relive her ordeal at court.
"She has remained dignified and resolute throughout this process, motivated by the fact she would be preventing other women from becoming his victims."