Flooded Kempsey residents seek compensation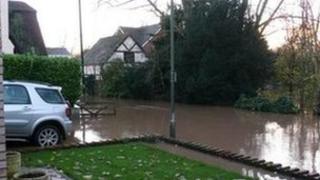 Villagers whose homes were flooded after pumps managed by the Environment Agency failed to protect them say they want compensation.
About 30 houses in Kempsey, Worcestershire, were evacuated during the early hours of 25 November.
A report said a waterlogged sensor was to blame for disabling £1.7m worth of flood defences.
Dan Corns, whose home was flooded, said: "I don't feel residents should be at a loss financially."
The report by the agency found 15 homes were flooded after two pumps designed to start automatically during flooding failed when the sensor became waterlogged and gave an incorrect river-level reading to its pumps.
Mr Corns, who is due to move into rented accommodation in Broadheath, said the flooding had caused around £26,000 worth of damage to the contents of his home and about £60,000 worth of damage to the building.
'More responsibility needed'
He said: "Insurance companies are being more stringent [in] reviewing the situation and I don't really feel the residents should be at a loss financially.
"The report is very cleverly worded and doesn't apportion blame but the chances are the defences will fail again and more responsibility needs to be taken."
The Environment Agency has said it would be working to fix the system.
Anthony Perry, from the agency, said the system had been tested and was fully functioning in the summer.
He said: "We do tend to heavily rely on technology so we can look back on that, learn from it and look forwards."
The pumps were unveiled in July following a 20-year campaign by villagers, who set up the Kempsey Flood Action Group in 2009.
Residents are due to meet with the agency later to discuss the report and raise the matter about compensation.