Woundcare 4 Heroes charity to raise soldier treatment issues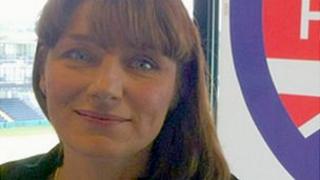 A charity says it has been invited by the government to outline the "gaps" in treatment for wounded soldiers.
West Midlands-based Woundcare 4 Heroes aims to provide specialist care to former members of the military.
The charity has said it had taken a while for the "gap" between military and NHS wound care to be recognised.
The Department of Health has welcomed support offered by the charity, which was launched in June. The group said it would go to London on 7 February.
Founder Claire Stephens, from Bromsgrove, Worcestershire, said she was heading to the capital after Westminster officials saw a BBC News article relating to the issue.
'Quite large numbers'
The nurse said the charity's mission had been recognised at government level and the group had been invited to put forward recommendations.
"Bearing in mind that there's been between 650 and 700 injured soldiers per year for the past 10 years, we are looking at quite large numbers of people who will need ongoing care for the rest of their life," she said.
Ms Stephens worked at the Queen Elizabeth Hospital in Birmingham for 17 years before serving as a nursing officer captain of The Queen Alexandra's Royal Army Nursing Corps. She was then injured in Afghanistan and medically discharged in 2011.
A Department of Health spokesperson has said: "We work closely with the Ministry of Defence, NHS, armed forces networks and service charities to make sure those wounded whilst serving their country continue to get the right care they need once they leave the armed forces.
"Much of the wound care received by those still serving will be provided by the NHS."