Worcestershire Olympic torch bearer loses cancer battle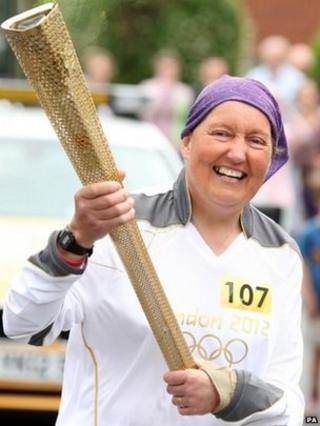 A Worcestershire cancer patient who carried the Olympic torch has lost her seven-year battle with the disease.
Helen Cleaver, from Little Witley, joined the torch relay in Warwickshire, carrying it on the leg from Newbold on Stour to Stratford-upon-Avon.
At the time she said: "I was surprised to have been nominated and wasn't even sure I was going to be alive for it."
She was being treated for aggressive secondary cancers after having breast cancer and died on Friday. She was 52.
Tributes have described her as a remarkable woman who raised money for cancer charities and was a member of the Worcester Busters Dragon Boat Racing team.
Sue Shackleton, Mrs Cleaver's friend and fellow breast cancer patient, said: "Last year was a fantastic year for Helen despite the fact she was very, very ill.
"She did such a lot of wonderful things, like carrying the torch and she was on the boat with us for the Queen's Jubilee Pageant on the Thames in June."