Worcestershire County Council is to cut another 650 jobs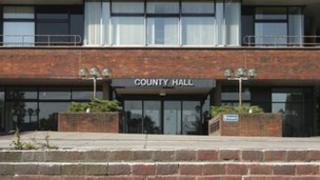 An extra 650 jobs cuts will not affect front line services according to the leader of Worcestershire County Council.
The council has said the jobs will go by 2017, in addition to 850 redundancies it has already announced.
Council leader Adrian Hardman said it would be "principally backroom jobs" that will go at County Hall in Worcester.
The Unison union has said morale at the council is at "an all time low".
Mr Hardman said he was "absolutely determined" to protect services to "people on the front line".
'Feel threatened'
"We are going to have to reform the way we work and to act slightly differently in the future," he said.
Jim Price, from Unison, said: "When you have a chief executive announcing that they're going to be losing a third of the workforce then it's understandable that people are going to feel threatened."
He predicted the cuts would affect services to "vulnerable people" across the county.
The Conservative-led authority has admitted a further £10m worth of savings could be necessary on top of the £90m already forecast.
The council had set itself a target of saving £70m by 2014, rising by another £20m by 2016-17.