Gritting teams out in Herefordshire and Worcestershire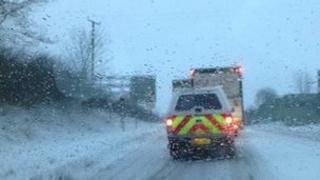 Gritting teams from councils in Herefordshire and Worcestershire are out in force over the weekend after snowfall led to hazardous conditions.
Worcestershire County Council said it was now working with district and parish councils to grit pavements.
Meanwhile, Herefordshire County Council said it had spread about 1,000 tonnes of salt in 24 hours but still had adequate stocks.
Minimal disruption has been reported on roads in the two counties.
Occasional snow flurries were expected across the region throughout the day, which will add to the lying snow in places.
BBC forecasters said it would feel bitterly cold with a brisk easterly wind. The best of any brighter spells to the west of high ground. Maximum Temperature 1C.
Saturday night was expected to be very cold with widespread frost and ice and a minimum temperature of -5C.
Worcestershire County Council said all 1,233 grit bins had been refilled and encouraged people to use its interactive map to find the nearest one.
John Fraser, who is in charge of highways at the council, said major routes should all be treated.
"We will be out and about on roads and footways getting as much salt down as we can do get them de-iced, and again will be calling on our partners, district councils and we've had a lot of help actually as well from parish councils."
Hereford and Worcester Fire and Rescue Service has urged people to stay safe by staying off frozen water.
Station Commander Alan Haley said: "We'd urge people not to step on to the ice at all, and certainly not to be tempted to skate, rescue an animal or retrieve a ball.
"They could easily fall through into the water, or get trapped below the ice, risking hypothermia or even drowning."