Motorists warned in Herefordshire and Worcestershire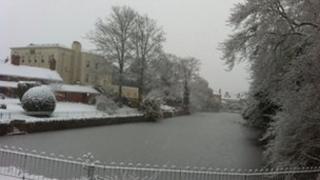 Motorists are being warned to take extra care on the roads across Herefordshire and Worcestershire with freezing temperatures forecast.
The Met Office was warning of a risk of ice after temperatures dropped to -6C (21F) overnight.
Up to two inches of snow has fallen in parts of Herefordshire and West Mercia Police said conditions on the A480 at Credenhill were hazardous.
Four schools were closed or partially closed in the two counties.
Herefordshire Council said its gritters had been out more than 150 times since the early hours of Friday using more than 800 tonnes of salt.
It said it expected to have a further 2,500 tons of salt by next week.
Worcestershire County Council's highways department said it has used 4,000 tons of grit and would continue to treat roads that need attention.
There was minor disruption to bus services in the county, the council said.
Judy Baugh, who runs the White House Guest House in Ross-on-Wye, said her takings had fallen by about 30% over the past 12 months as a result of bad weather.
'Snow is a blessing'
She said: "In the last couple of weeks we've had a lot of cancellations because a lot of our guests are outdoor-type people and unfortunately that is our problem.
"It's not an easy time until the spring comes and we can hope for some dry weather."
In Feckenham, the community shop said it had seen a rise in the number of local customers, because they didn't want to venture far in the bad weather.
Committee member, Rosemary Wormington said: "The snow is a blessing because it helps to bring in the customers.
"We normally take £500 on a Friday but we took nearly £1,000 this Friday just gone and it was similar on the Saturday."
Herefordshire Council said the snowfall following on from recent flooding had led to a lot of road damage and potholes across the county.
The council have said that they are receiving an average of 50 reports of highway defects a day and more than 200 were repaired last month.
Graham Powell from the council said: "We doing our best to keep on top of the growing number of repairs that need to be done.
"The immediate safety of the travelling public remains our top priority and we will do all we can to carry out the safety repair work required as quickly as possible."
Hereford United's game at Forest Green Rovers on Tuesday night has been called off.