Nine rescued in Herefordshire and Worcestershire floods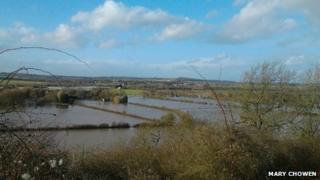 Nine people have had to be rescued from four cars following flooding on a main road in Herefordshire.
Fire crews were called out after the cars became stuck on the A438 in Letton in separate incidents. No-one is thought to have been hurt.
Warnings have been issued for rivers across Herefordshire and Worcestershire by the Environment Agency.
Flood barriers are expected to be put up in Bewdley later.
'Rapidly-changing situation'
Five flood warnings are still in force for stretches of the rivers Severn and Avon in Worcestershire and the Wye in Herefordshire.
The M50 eastbound at junction two for Ledbury is down to one lane because of flooding and the Eckington and Jubilee bridges have been closed by Worcestershire County Council.
Dave Throup, from the Environment Agency, said it was a "rapidly-changing situation".
He said the River Wye at Hereford peaked earlier at 4.62m and was now falling.
However, he urged people living near the affected rivers to look out for updates throughout the next hours and days.
The Environment Agency has published a live floods map.