University of Worcester officially handed £15m sports arena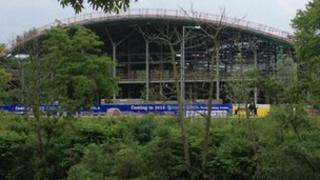 A £15m sports arena has been officially handed over to the University of Worcester following the completion of construction work.
The facility, on the former fruit and vegetable market site on Hylton Road, Worcester, will be a national centre of excellence for disabled sport.
It has seating for 2,000 people and could host major indoor sports events.
The arena will open later this month and will host the Superleague netball grand final in May.
'A sporting city'
It will compliment existing sporting facilities at the University of Worcester and will also become the home of the Worcester Wolves Basketball Club, who currently play at the university's St John's campus.
Mick Donovan, head of the university's institute of sport and exercise science, said: "Many people have worked really hard to help to make this happen.
"We are thrilled with the outcome and are genuinely excited about the sporting opportunities we will be creating for so many sporting generations in the future.
"The arena will really help to put Worcester on the map as a sporting city and attract some great events to the region."