Imie Harrison: Funeral for girl, six, who fell into canal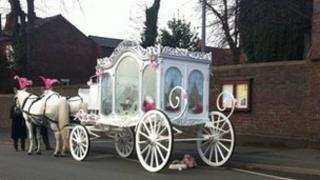 The funeral has been held for a six-year-old Kidderminster girl who died after falling into a canal.
Imie Harrison was playing near Wolverley Court Lock on 19 March when she fell into the Staffordshire and Worcestershire Canal.
About 100 people gathered for the service at St John's Church in Kidderminster, many wearing pink, which was Imie's favourite colour.
West Mercia Police described her death as an "extremely tragic accident".
A girl and a boy, also six, who fell into the water at the same time survived after managing to get out of the water themselves.
Imie, whose twin brother raised the alarm, was rescued and taken to hospital in Birmingham, where she died.