Worcester bus drivers experience life as a blind passenger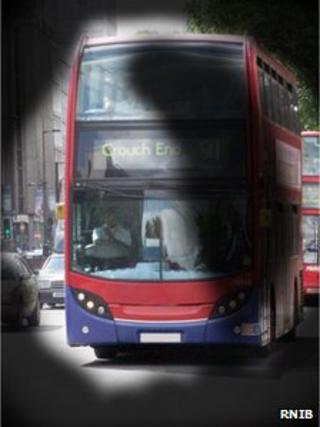 Bus drivers in Worcester are being given a chance to understand what it is like for a blind or partially sighted person to use public transport.
The drivers will wear special glasses that simulate the kind of vision someone with cataracts or glaucoma has.
They will be asked to read signs, board a bus and pay for tickets.
The event is part of the Royal National Institute of Blind People (RNIB) "Stop for me, Speak to me" campaign.
Rebecca Swift, from the RNIB, said catching a bus should not be "a sight test".
"The difficulties blind and partially sighted people face in making journeys that other people take for granted are unacceptable and often unnecessary," she added.
Steve Zanker, from bus operator First Worcester, said: "This is an excellent opportunity for us to work alongside Sight Concern Worcestershire in spreading awareness and providing valuable guidance to our staff."
Blind and partially sighted people will also be given the chance to sit in the cab of a stationary bus.