Worcestershire nursery sex assault case: Police search for parents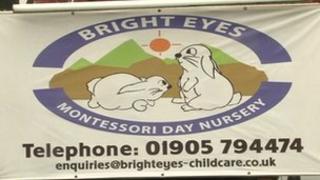 Police say they are still trying to contact all the parents of children at three nurseries in Worcestershire as part of a sexual assault investigation.
Six men were arrested earlier this week after a child complained of being attacked at one of three branches of Bright Eyes nurseries.
Officers said there were incomplete parent contact details at the nurseries in Bromsgrove, Redditch and Droitwich.
They said the Information Commissioner was now investigating the matter.
The six arrested men have since been released on police bail for two weeks.
West Mercia Police met parents with children at the three nurseries at meetings on Friday evening.
Det Supt Amanda Blakeman said there had "been a clear lack of control within the nursery setting, specifically at Droitwich, of unauthorised people having access to the childcare environment".
Cannabis plants found
Six premises, including the three nurseries, were searched as part of the investigation.
Police said six small cannabis plants had been found in a "small private dwelling" in the grounds of the Droitwich branch, which was being dealt with in a separate investigation.
Det Supt Blakeman added: "We fully understand the fears many of the parents have.
"We want to keep them as informed as possible and we hope the information and guidance passed on will help them deal with this difficult situation."
The owners of the three branches took the decision to close all three nurseries earlier this week while the police investigation continues.
Ofsted has since suspended Bright Eyes' registration while investigations continue, meaning the nurseries are unable to offer childcare.
No-one from Bright Eyes has wished to comment.
Police have urged anyone with information to contact them.